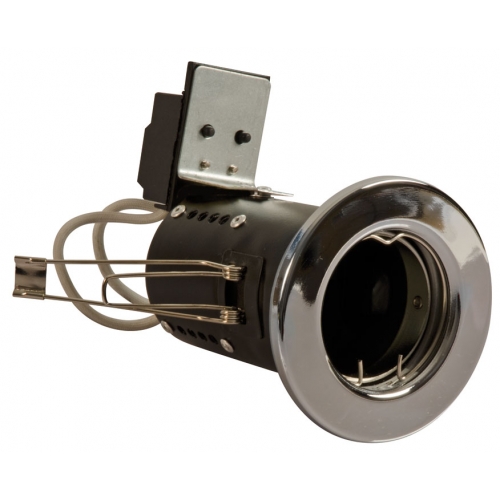 Fire Rated Downlights
Fire Rated Downlights are just like regular ceiling downlights, so they are recessed into the ceiling, but they are 'Fire Rated'. This means that they are able to hold back flames in the event of a fire, attempting to prevent the spread of the fire to the floors above where the downlight is installed. Please note, the Fire Rating does not mean that the downlight is immune to catching fire. These lights very rarely catch fire, so this feature would be pointless.
As all of the fixtures are GU10 (230V) mains voltage, they are suitable for direct replacement of older style lighting fixtures, such as regular recessed ceiling downlights.
The reason these downlights have a fire rating is because they use an intumescent seal that is installed around the edge of the fitting. This seal expands when heated, so for example, when the light is powered on. This creates a Fire Rated seal around the outside of the fitting, which is the critical part of the fire rating that's attached to these downlights. Another aspect of the fire rating is the canister placed on the back of the Light Fitting. This ensures that all the electrical wires and parts of the fitting are protected, which helps the light stay powered on during the event of a fire as to help people in the area to locate emergency exits etc.
All downlights are Fire Rated to hold back flames for a certain amount of time. These times vary but are commonly found to be either 30, 60, 90 minutes or even longer. All the Fire Rated fittings that Electrical Trader stock and supply are designed and built to hold back flames for at least 90 minutes. This helps allow the emergency services time to arrive on site to extinguish the fire before it spreads to other floors and areas of the building.
In comparison, non-Fire Rated downlights don't include these features, meaning that fire can penetrate the innards of the light, then spreading to other floors and open areas of a building, increasing the risk of injury and the building collapsing.
These Fire Rated fittings and fixtures are available in both fixed and tilting variants to suit any purpose that you may have for them. For example, fixed Fire Rated fittings allow light to be concentrated on a certain place or area of a room. Tilted fittings allow the light spread to be adjusted to the favoured amount/angle.
As well as the Fire Rating that is attached to these fittings, due to the intumescent seal around the edge of the face of the fitting, these downlights also have an acoustic rating. Regular recessed downlights have the issue of there being a hole around where the fitting is placed, meaning that sound can penetrate the open space above the fitting, which means that if there is a quiet room above, you'll be able to hear sounds from the room below coming through the hole in the ceiling below. This can be extremely distracting when concentrating on something. Fire Rated fittings keep this problem to a bare minimum.
These fittings also abide by building regulations, which means they also abide by all health & safety laws.
Fire Rated Downlights are very flexible when concerning the lamps that they accept. Halogen Lamps at 35 and 50 watts are accepted, available for viewing here, as well as the much more versatile and efficient LED Lamps. The dimmable types of both of these lamps are also acceptable, meaning that if you're installing these fittings into a room where there was previously a dimmable light fitting, these are suitable for direct replacement as both the Fire Rated fitting and lamp are both dimmable.
LED Lamps include a wide range of advantages over halogen lamps starting with electricity and utility bill savings due to the fact that LED lamps use such a small amount of power in comparison to the light spread and amount. Colour temperatures of these lamps are commonly found in either Warm White, Cool White or Day Light. Warm White is best suited to rooms where a warm glow is required, such as a living room or bedroom. Cool White would be more suited to a bathroom or kitchen as it provides a bright, cooler white. Day Light is commonly found in hallways and other areas where a more natural white is required.
Another major advantage is the lifespan of these lamps. As they only use a small amount of power, they last a significant amount of time longer than regular halogen bulbs and lamps. This means that even though the lamp itself is more expensive than Halogen Lamps, they more than make up for this extra cost with the savings you'll make per year.
Another commonly found type of lamp are Low Voltage Halogen Lamps. These lamps are often thought of as a cheaper alternative, which usually perform better. This is often a misconception, though, as Low Voltage Halogen lamps actually use more energy for a given wattage in comparison to regular Halogen Bulbs. They are also believed to last longer than alternatives, but this is only true when concerning regular Halogen Bulbs, not LEDs. Advantages of Low Voltage Halogens only really include the fact that they provide a whiter, crisper light as well as the previously mentioned longer lifespan compared to regular Halogen Lamps.
Disadvantages of Low Voltage Halogen Lamps include the transformers that are required when using a normal recessed downlight or GU10 mains voltage Fire Rated fitting, also that they require a certain type of dimmer switch when being installed into a dimmable fitting.
If you buy a dimmable lamp with a Fire Rated fitting, they will both have dimmable compatibility, although if you'd prefer to fit a regular, non-dimmable lamp, the fitting will be compatible with that too without further modification.
In conclusion, Fire Rated fittings are a better and more cost-efficient alternative to regular, non-fire rated recessed ceiling downlights as they provide an extra method of protection against the spread flames during the event of a fire as with regular, non-fire rated fittings, a fire hood is required to abide by health and safety regulations when installing lighting fixtures into a building. These fire hoods are not cheap in many cases, meaning that the small amount extra money that you pay with Fire Rated fittings is made up by the fact that fire hoods are not required.
Delivery Information
Electrical Trader stock and supply a large range of Fire Rated fittings and fixtures, as well as accessories to accompany these fittings. If there is a specific type or size of fitting that you require but cannot see among the range we have available on the website, please give our Sales Team a call on 01244 288138 for further information on sourcing the type to suit your needs.
Electrical Trader is located on Zone 1 of Deeside Industrial Estate near Chester, so if you'd prefer to arrange a pick up for Fire Rated fixtures and fittings, please feel free to do so as all pickups are welcome.
Non-Fire Rated and Fire Rated type Downlights available for the best prices online with fast, free delivery on orders over £100, here at Electrical Trader.